Details
Introducing our exquisite homemade Honey Garlic Chicken breast, carefully prepared by our skilled team in our ISO22000 certified Factory.
Delight in the harmonious fusion of succulent chicken breast infused with the delightful sweetness of honey and the savory allure of garlic.
Immerse yourself in a nutritious and delicious protein-packed choice that will enhance your dining experiences.
Experience the convenience of a premium, ready-to-enjoy dish crafted with care and quality ingredients.
Elevate your gastronomic journeys with our tantalizing Honey Garlic Chicken breast – an essential addition for those with discerning palates.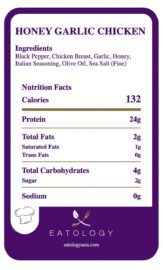 110g (-/+ 10g) each.
Pack of 20 (Individually vacuum-packed).