Kids are like the duracell bunny in the TV ad with endless energy running around day after day. It can be challenging for parents to handle their picky eaters at home, and to ensure their kids are getting all the nutrients they need to grow and recharge their invisible batteries. Especially calcium and vitamin D for bone growth; iodine, iron and zinc for neurological & immune system development and developing a healthy eating habit.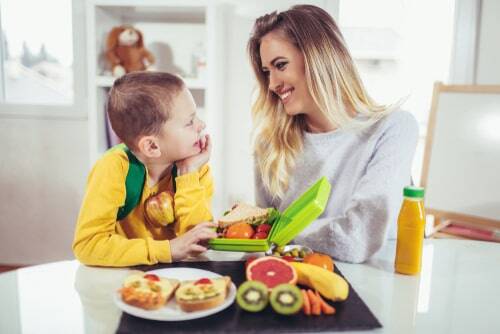 How do you help your kids make healthy food choices? Here are 7 ways to help your kids eat well.
1. Identify the reason
Stay calm when your little ones start screaming at you and throwing the food around. Ask why they dislike the food item? Is it the texture? Colour? Flavour? Don't get upset and keep trying.
2. Be Patient and Try Something Else
Respect his/her options. There are a lot more healthy food choices and cooking methods to try. Kids may not like the strong flavour of herbs and spices like adults do, but this doesn't mean the food has to be boring, try different combinations for example grilling root vegetables in the oven for some extra crispness. Trick them into thinking they're having chips! Or try stir-frying meat with vegetables. (For inspiration, you may also wan to check our Mushroom Stuffed Turkey Recipe!)
3. A Routine Meal Time
It's important to have a good habit of regular meal times for both kids and adults. If they're feeling hungry between meal time, try giving them some healthy snacks like half a piece of fruit or a small cup of sugar-free yogurt. It's okay to have snack time especially after running around. Also, don't forget to make your children drink lots of water throughout the day.
4. Healthy Snacks
Prep your own trail mix or yogurt cup with unsalted nuts, unsweetened dried fruits and cereal puffs. So simple and easy, that even your kids can join in for the prep. It can be served as breakfast or a snack. Grilled cheese sandwich isn't as evil as you think if you use whole wheat bread and low fat cheese instead! It provides part of the recommended daily allowance of fiber, vitamin D and calcium and it only takes a few minutes to make! (Also Read: Why Bother Snacking?)
5. Let them Pick
Bring your kids with you to the grocery store for a mini food adventure. Introduce some fruits and vegetables and surely they will be attracted by their vibrate colours! Let the kids pick. Don't worry, you're still under control! You can pick three choices for your kids to pick from. It'll increase their incentive to eat and enjoy the food when they are allowed to pick the fresh produces for the family. It can also help you as a parent if you're having trouble choosing which option to buy out of the three!
6. Keep Things Colourful
Breakfast scrambled egg with a glass of milk may look dull so what about adding some spinach and tomatoes to spike up the colour. Try different combinations like turkey with spinach or mushroom with spinach or cheese with mushroom etc. A high fiber and protein breakfast will keep the kids full and energised till tea break. (Do check our post on The Rainbow Diet too.)
7. Sneak-in Vegetables
A new twist to the classic spaghetti bolognese is to use whole wheat pasta or green soy bean pasta instead of white pasta. Top it off with more vegetables and your own pasta sauce, by adding carrots, onions and chunky tomatoes. This new twist version is packed with vitamin C and more dietary fiber!
Eating healthy foods never has to be boring! Your kid deserves the best!
---
References:
Sisson, M. (2017, July 19). The Definitive Guide to Children's Nutrition. Retrieved December 15, 2017, from https://www.marksdailyapple.com/the-definitive-guide-to- childrens-nutrition

http://www.heart.org/HEARTORG/HealthyLiving/HealthyKids/HowtoMakeaHealthyHome /Top-10-Tips-for-Dealing-With-a-Picky-Eater_UCM_303811_Article.jsp#

http://www.parenting.com/article/picky-eater-kids